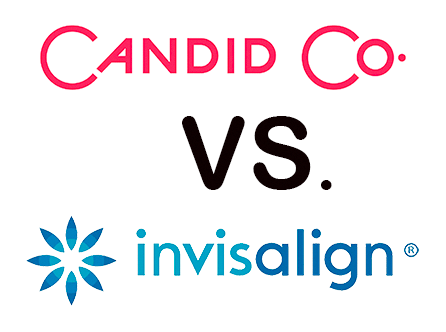 Are you having trouble deciding between Candid or Invisalign in NYC? People that are interested in receiving teeth straightening treatments using clear aligners often feel confused about the difference between Invisalign and Candid at-home teeth straightening options. Can't decide between Invisalign or Candid? The following information will help clarify the difference between Invisalign and Candid to help guide you in the direction that best suits your orthodontic needs for clear braces.
Save up to 35% on Orthodontics Treatments.
Schedule your appointment today. Insurance accepted.
Call: 212-972-3522
Invisalign Teeth Straightening Treatment
Invisalign teeth straightening treatment is very popular and is the go-to recommendation of orthodontists in NYC. The treatment could last up to 6 months and fits with the busy schedules of New Yorkers. Once you visit your local NYC orthodontist to address any oral issues that can interfere with Invisalign treatment, the teeth mold process begins.
Generally, an orthodontist begins the process of Invisalign treatment by taking a mold of the patient's teeth. Next, clear aligners are custom-made to move and turn teeth into perfect alignment gradually. This slow and steady process involves changing Invisalign clear aligners every two weeks or as specified by the orthodontist.
Interested in learning more about which treatment is best for you? Please contact Dr. Jacquie Smiles for more information on teeth straightening treatments in NYC with clear braces by calling 212-972-3522.
Benefits of Invisalign Teeth Straightening Treatment
Invisible to the eye – Teens and adults are excited when they realize the clear aligners are barely noticeable. The invisibility often encourages patients to choose Invisalign over standard metal braces.
Easy to remove – Orthodontists recommend patients of Invisalign remove the aligners before eating and drinking. The removal of the aligners is necessary to help prevent damage due to chewing and heat. The aligners are easy to remove and insert afterward.
Boost self-confidence – As the Invisalign treatment progresses, patients have reported a boost in self-confidence as their teeth become straighter. They often find themselves smiling more in pictures and in person.
Prevents plaque and tartar buildup – Standard metal braces involves brackets, wires and sometimes rubber bands. These metal pieces adhere to teeth which makes it is easy for tartar and plaque to build up between the crevices. Invisalign aligners are clear and removable which allows the patient to brush their teeth and floss after every meal which helps prevent bacterial growth, and plaque or tartar build up.
Only six months of commitment – The length of the treatment plan is determined by the individual needs of the patient. However, most patients only require six months worth of treatment to achieve their perfect, beautifully straight smile.
Cons of Invisalign Teeth Straightening Treatment
Requires responsibility during treatment – Clear aligners provide a multitude of benefits for patients, but it also demands responsibility to properly care for the aligners and follow the specific plan formatted by the orthodontist. This includes making sure you wear the aligners at least 22 hours per day.
Removal before meals – As mentioned earlier, Invisalign aligners need to be removed before consuming food and drinks. Food can stain aligners as well as chewing action can damage them severely which interferes with your treatment. Hot beverages are also a common culprit for ruining aligners which interferes with the progress of the treatment.
Brushing teeth frequently – Dentists have recommended that you brush after every meal throughout your entire lifetime. However, when it comes to using Invisalign treatment, it's mandatory that you brush and floss after every meal to remove tiny particles from in between teeth. Particles that are left behind and covered with clear aligners for hours at a time can create bacteria growth, odor, tooth decay, and other issues.
Schedule your no-obligation Invisalign appointment with Dr. Jacquie Smiles. Please call 212-972-3522 or use our contact form to receive additional information.
Candid At Home Teeth Straightening Treatment
Candid teeth straightening treatment is an option for patients in NYC that are interested in straightening their teeth from the convenience at home. Patients that choose this service receive a molding kit delivered to their front door. The molding kit arrives with specific instructions on how to conduct the procedure and return it to the Candid.
The process continues as the Candid uses the patient's teeth molds to create clear aligners that will help straighten teeth. Several weeks later the Candid clear aligners arrive at the patient's NYC home for use. The specific instructions are carefully noted, and patients are expected to adhere to the rules during the entire treatment process which lasts up to at least six months.
Benefits of Candid Teeth Straightening Treatment
Remote teeth straightening process – Potential patients in NYC that are interested in receiving teeth straightening treatment remotely will find Candid convenient.
Average of six months treatment – The average patient receives up to 6 months of teeth straightening treatment through candidate care company.
Easy to fit into your schedule – Since all procedures are done through the mail patients don't have to worry about fitting an in-person appointment into their busy schedule.
Boosted self- esteem – As the teeth straightening procedure progresses patients are known to experience a boost in their self-esteem.
Cons of Candid Teeth Straightening Treatment
Lack of access to an orthodontist – A common complaint among Candid patients is the lack of in-person access to an orthodontist. While orthodontists are responsible for creating the custom-made aligners, some patients have found it difficult not to see the orthodontist in person to address personal issues.
Unforeseen discomfort and pain – Patients conduct the process of taking a mold of their teeth in the comfort of their own home. However, this process is not overseen in- person by a licensed orthodontist which causes common oversight with serious orthodontic issues that need to be addressed prior to clear aligner treatment. The oversight often results in severe pain and discomfort.
Responsibility for treatment – Candid at home remote procedure involves patients being responsible for their own treatment. Patients in NYC are required to follow the specific instructions that keep the process moving in a forward direction. Instructions often include cleaning the aligners, changing the aligner set every two weeks, and wearing the aligners up to 22 hours per day.
Teeth straightening treatment that involves clear aligners is highly beneficial for teens and adults worldwide. Receiving orthodontic treatment in the comfort of your own home often sounds like a great idea until reality sets in and patients realize they don't have access to professional assistance as much as they need. It's essential to receive orthodontic care and guidance regarding Invisalign treatment.
We are here to help you achieve your best smile with teeth straightening treatment using clear aligner braces! Contact us today to set up an in-office appointment to begin the exciting journey to your better smile!
Schedule Appointment
To schedule your appointment for orthodontic treatment in NYC with our orthodontist specialists, please call 212-972-3522 or fill out our convenient contact form to receive more information. Our office is conveniently located near 30 East 40th Street, New York, NY 10016.